The Perfect Body
Agosto 22, 2019 in Attualità, Net Journal, Primo Piano, Spettacoli, Teatro da Federica Balbi
Seen at Edinburgh Festival Fringe on the 20th August 2019
Review by Federica Balbi

– Smart, catching, ironic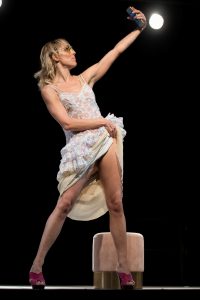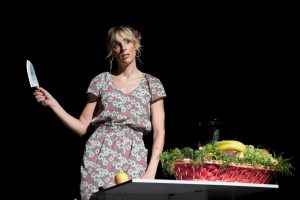 Food, food, food! Food is the key. Everybody wants to have a perfect body, isn't it? The protagonist of this one-woman show certainly does… no junk food, no coke and such drinks, the basis. (Spoiler alert: irony in use here!) No meat, in order not to kill animals. And fruit must have fallen naturally to the ground, so that you don't hurt plants!
Lavinia Savignoni performs this long monologue with great vitality and self-irony. The text is extremely well written, and it reaches intensity peaks in bringing behaviours and beliefs to their extreme and revealing their absurdity. Lavinia constructs a character to laugh at, and she does not fear to talk about anything, shit included, and to play with her own beautiful body.
Some moments of physical performance are enchanting and powerful. Despite the actress's sensible Italian accent, it doesn't affect the performance. It rather conveys it authenticity, also through a few Italian words and the tender evocation of her father, in which Lavinia incredibly transforms herself.
A play dealing with extremely timely themes, relised by La Loba Productions and Rhymes with Purple. A play about the obsession for control and the pressions of society – or fashion – clashing against what we are and what we really want. ʻOrthorexia' has the same old ending of many other illnesses.
2-25 August, 12.30 pm
Running time: 55 minutes
PQA Venues @Riddle's Court, Q2 (Venue277), Riddle's Court, Edinburgh EH1 2PG
Tickets and Info: https://tickets.edfringe.com/whats-on/perfect-body
Twitter: https://twitter.com/LaviSavignoni