Gone Full Havisham
Agosto 24, 2019 in Net Journal, Primo Piano, Spettacoli, Teatro da Federica Balbi
Seen at Edinburgh Festival Fringe on the 20th August 2019
Review by Federica Balbi

– Dramatic intensity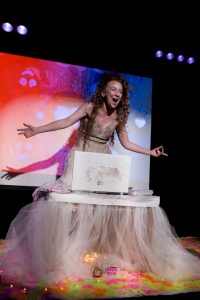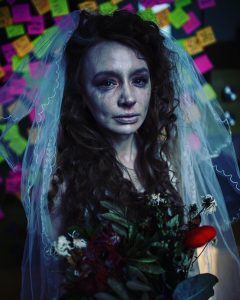 A young Miss Havisham: orphan, cultured, about to get married… Emily's normal life is suspended; she disappears, and her story becomes the one she tells through social media. She talks to her followers still keeping on her wedding dress, which has accumulated spots and dirty six months old.
It doesn't happen often to feel tired, physically worn out, after a show. An afternoon show, even. The young, award winning Irene Kelleher performs her own original play with incredible power, switching from laugh to tears within seconds. She's one of those actors who let the audience see people and objects she's only evocating.
The intensity of the actress captures all attention and deprives of energy. She surprises with unexpected actions and stimulates curiosity towards Emily, who hides an unspeakable pain behind her insta-smile.
The space she moves on is (also metaphorically) very limited, but the direction by Regina Crowley and the set design by Cormac O' Connor bring this space to life. Emily stands, lays, sits on a large table at the centre of the stage, a laptop always ready to be used. When the lights go off, she's abandoned to her torment; she fakes a joyful shriek every time she goes online.
This play, perfectly constructed according to the mechanisms of storytelling, ultimately talks about the rebellion of a woman who wants to take back her life from what others have wanted it to be. But are social media really the way out?
31st July – 25th August, 4.30 pm
Running time: 1 hour
Gilded Balloon Patter Hoose (Venue 24), 3 Chambers St, Edinburgh EH1 1HT
Tickets and Info: https://tickets.edfringe.com/whats-on/gone-full-havisham
Twitter: https://twitter.com/GoneHavisham
Instagram: https://www.instagram.com/gone_full_havisham/