Seeking Unicorns
Agosto 21, 2019 in Attualità, il Traspiratore, Medley, Net Journal, Primo Piano, Spettacoli, Teatro da Federica Balbi
Seen at Edinburgh Festival Fringe on the 15th August 2019
Review by Federica Balbi

– Alternative communication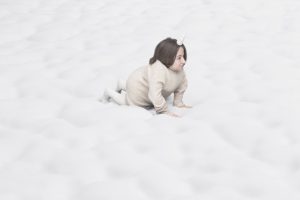 At the corner of the stage lays a woman. A white-dressed creature, she is crouched in a prone position. Her first movements are slow and shy, only later does she reveal more of herself. Gradually we start reading the proportions of her body, and when she lifts her gaze, shame makes her lower it again.
Pulling her fists against the ground, she finds the strength to rise again. She shakes her head, and slowly starts crawling towards the centre of the white stage, backgrounded white.
In this quasi metaphysical atmosphere, Chiara Bersani's body seems an allegory for something else. Her strong fists, her elbows bent, her small feet from time to time stretched behind her. Sometimes, stabbing pain does crisp her smile, for few instants. Her chin, from now on, never goes down again, never too low, despite her efforts.
One of the most impressive aspects about her performance is the contact she looks for in the audience: eye contact, with everybody sitting close enough; and in her face, we see her answer to the reaction she sees on ours. An attempt of deeper communicating that depends on the audience, and might success or not. As well as the trumpet on stage, that might sound or not.
As she proceeds on all four like some mythical creature, a trace of small footprints is left by her sweat fists. Produced by Associazione Culturale Corpoceleste, this beautiful performance could not be easy to follow for some, but it has a strong impact if one can concentrate and enjoy it.
13-18 August, 1.15 pm
Running time: 40 minutes
Dancebase, Studio 3 (Venue 22), 14-16 Grassmarket, Edinburgh EH1 2JU
Tickets and Info: https://tickets.edfringe.com/whats-on/seeking-unicorns
Twitter: https://twitter.com/bersanichiara