Tossing up the power coin
Aprile 10, 2005 in Punti di Vista da Simona Margarino
Here comes his body, mourned
[William Shakespeare, Julius Caesar]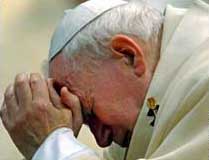 There are people that with one hand sign to try and save a woman attached to tubes in a hospital bed, and with the other vote to push the button of an ethically correct capital punishment. It's such a brazen luck, to own two arms.
There are devils that turn water into blood and semi-gods that, out of that blood, extract oil. It's such a miracle that empty skulls can be filled with ready money.
There are those who, in an immense square mute with faith, make of a gun a holy "means of the supernatural", and those who store rich medicines for better times. It's such a good taste, of the poor, not to ask for help or disappear into prisons.
And then there are medals whose face is a serene, ill man, where peace and pain survive after life. A blessed soul in a thousand. But maybe this is a privilege only of those who die twice. Thus, to whom victory, my friends?
* All references to Terri Schiavo, the Djandjawid in Darfur, some Countries' governors, Ali Agca's words, the forever-Pope Woityla (18/5/1920-13/5/1981-2/4/2005) are just another Fate's decision, like everything else.
Ecco il suo corpo, pianto
[William Shakespeare, Julius Caesar]
Ci sono persone che con una mano firmano per cercare di salvare una donna attaccata ai tubi nel letto di un ospedale, e con l'altra votano per schiacciare il bottone di una pena capitale eticamente corretta. È una tale sfacciata fortuna avere due braccia.
Ci sono diavoli che trasformano l'acqua in sangue e semi-dei che da quel sangue estraggono petrolio. È un tale miracolo che le teste vuote possano essere riempite con denaro sonante.
Ci sono quelli che, in un'immensa piazza muta di fede, fanno di un'arma un santo "mezzo del soprannaturale" e quelli che mettono via ricche medicine per tempi migliori. È un tale buon gusto, da parte dei poveri, non chiedere aiuto o sparire in prigione.
E poi ci sono medaglie la cui faccia è un uomo sereno, ammalato, in cui pace e dolore sopravvivono dopo la vita. Un'anima benedetta tra mille. Ma forse questo è un privilegio solo per quelli che muoiono due volte. Dunque, a chi la vittoria, amici miei?
* Tutti i riferimenti a Terri Schiavo, i Djandjawid in Darfur, i governanti di alcuni Paesi, le parole di Ali Agca, il Papa-per-sempre Woityla (18/5/1920-13/5/1981-2/4/2005) sono solo un'altra decisione del Fato, come tutto il resto.
di Simona Margarino