Merry and Tragical
Aprile 4, 2006 in Medley da Simona Margarino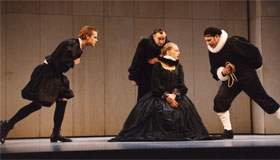 "Merry and tragical! Tedious and brief! / That is, hot ice, and wonderous strange snow. / How shall we find the concord of this discord?" (William Shakespeare, A Midsummer-night's dream)
In a midsummer night
The Fairy Queen, one of the most refined theatrical works of Henry Purcell, that enlarged its score in 1693, was the third of the semi-operas composed for the United Company of the Theatre Royal. Harshly criticised by a few critics as desecrating with respect to the original piece of the English genius from Starford-on-Avon, it had its premiere in London, at the Queen's Theatre, on the 2nd of May 1692. It did not remain an isolated case, because a story like the one of Titania, Oberon and Puck, set in a wood not far from Athens, among fairies, love and plenty of desires, often comes back, as all the memories that wake us up in the middle of the night, with or without kings and queens. Thus, many have been the reinterpretations and recordings inspired by it: the one directed by Anthony Lewis in 1957, by Alfred Deller in 1972, by Benjamin Britten and Peter Pears in 1973, by John Eliot Gardiner in 1982, by William Christie in 1989.
Furthermore, if to William Shakespeare's words and Henry Purcell's music we add the German of August Wilhelm von Schlegel the result is Ein Sommernachtsraum, on the stage of the Deutsches Nationaltheater in Weimar. Conducted by Thomas Potzger and Michael Schulz and with Jürg Wisbach playing Oberon, Rosemarie Deibel Titania and Claudia Meyer Puck, this Midsummernight's dream through five acts speaks, dances, performs. Two hours and 45 minutes to enter another world and let the imagination run away. Let's fall asleep, then.
In una notte di mezza estate
The Fairy Queen, uno dei lavori teatrali più raffinati di Henry Purcell, che ne ampliò la partitura nel 1693, fu la terza delle semi-operas composte per la United Company del Theatre Royal. Aspramente condannato da alcuni critici come dissacratorio nei confronti dell'edizione originale del genio inglese di Starford-on-Avon, venne rappresentato per la prima volta a Londra, al Queen's Theatre, il 2 maggio del 1692. Non rimase un caso isolato, perché una storia come quella di Titania, Oberon e Puck, ambientata in un bosco non lontano da Atene, tra fate, amore e parecchi desideri, ritorna spesso, come tutti i ricordi che ci svegliano nel bel mezzo della notte, con o senza re e regine. Molte sono state quindi le sue rivisitazioni e le incisioni ad essa ispirate: quella diretta da Anthony Lewis nel 1957, da Alfred Deller nel 1972, da Benjamin Britten e Peter Pears nel 1973, da John Eliot Gardiner nel 1982, da William Christie nel 1989.
Se poi alle parole di William Shakespeare e la musica di Henry Purcell aggiungiamo il tedesco di August Wilhelm von Schlegel il risultato è Ein Sommernachtsraum, sul palco del Deutsches Nationaltheater di Weimar. Sotto la regia di Thomas Potzger e Michael Schulz e con Jürg Wisbach a impersonare Oberon, Rosemarie Deibel Titania e Claudia Meyer Puck, questo Sogno di una notte di mezza estate attraverso cinque atti parla, danza, recita. Due ore e 45 minuti per entrare in un altro mondo e fantasticare. Addormentiamoci, allora.
William Shakespeare

Ein Sommernachtstraum

Semi-opera in 5 atti

Musica di Henry Purcell

Testo tedesco di August Wilhelm von Schlegel
deutsches nationaltheater & staatskapelle weimar

TheaterbetriebsgGmbH

Theaterplatz 2

Postfach 2003 & 2005

D-99401 Weimar

+49 (0) 3643 / 755-0

[email protected]
Durata: 2 Std. 45 Min., 1 Pause

Premiere: sa, 25.10.03, 19:00 Uhr

Spielstätte: großes haus

22.3.06, 19:30

19.4.06, 19:30

2.6.06, 19:30

Regie: Thomas Potzger, Michael Schulz

Dramaturgie: Thomas Potzger

Musikalische Leitung: Marco Comin

Bühne: Dirk Becker

Kostüme: Renée Listerdal
Karl Albert (Theseus), Christoph Heckel (Egeus), Marc Benjamin Puch (Lysander), Markus Seidensticker (Demetrius), Ute Wieckhorst (Petra Squenz), Nils Cooper (Schnock), Aleksandar Tesla (Zettel), Uwe Stickert (Flaut), Oliver Luhn Schnauz), Frieder Aurich (Schlucker), Roswitha Marks (Hyppolyta), Antje Trautmann (Hermia), Nicole Steiner (Helena), Jürg Wisbach (Oberon), Rosemarie Deibel (Titania), Heike Porstein (Changelin), Claudia Meyer (Puck), Bertram Quosdorf (Eine Fee), Jon Pescevich (Ein betrunkener Poet), Silvia Wohlfarth (Eine Fee), Susanne Thielemann (Eine Zweite Fee)


di Simona Margarino