Is the Eurovision Song Contest going to surprise us?
Maggio 6, 2011 in Musica da Redazione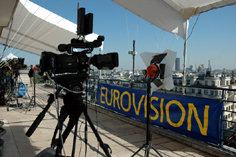 This year it wll be the German Norddeutscher Rundfunk (NDR), national public radio and television broadcaster of the country that won in 2010, to take care of the production of the Eurovision Song Contest, in close cooperation with the European Broadcasting Union (EBU) and over 40 participating Member Broadcasters across Europe. And Düsseldorf, that was selected as successful bidder against Berlin, Hamburg and Hannover, will be the host city.
No doubt all the right pre-conditions exist to ensure another memorable edition of the biggest music event in Europe. Yes, we will not have the pleasure of seeing the Oasis battling for the honour of the Union Jack flag, Biork defending the pride of the Icelandic soil, Carla Bruni fighting for France (or Italy?). Once universally VIP, artists do not appreciate competition any longer, except in the CD selling market or the top magazine covers' boxing ring. Though, the remarkable Fortuna Düsseldorf's arena will be again the theatre of some very good music, much funny entertainment and, as usual, a fierce war of microphones and notes for the real gladiators: the 43 countries represented.
The rehearsals have already begun among backstage indiscretions and a few hints of what the two semi-finals and final will bring can be given: a LED screen projecting the rotating planet earth for Paradise Oskar from Finland, energy and sunglasses for Malta's Glen Vella, elegant melancholy for the Sammarinese Senit, fireworks for the Georgian lead vocalist Sophio Toroshelidze and her band Eldrine, the tenor voice of Amaury Vassili for France, disco moves and glitter for Daria from Croatia, an ukulele for the Swiss Anna Rossinelli, a bit of unusual jazz for the Italian Raphael Gualazzi, the Russian Alexej Vorobjov with a piece written by RedOne (who composed songs for Lady Gaga and Jennifer Lopez). There will also be some new names recently appeared in the firmament of music directly from other famous shows (like the Irish duo Jedward, with their lively lipstick, that spark controversy during the 2009 UK X Factor), and re-formed bands (like the Blue who, chosen by BBC, will try to revive the worldwide success experienced between 2000 and 2005, when in the end they split to pursue solo projects). These and many other news can be found daily on the Contest's official website: www.eurovision.tv.
Will this be enough to surprise us? Who knows. You just don't miss out!
Eurovision Song Contest

http://www.eurovision.tv/page/dusseldorf-2011

ESPRIT Fortuna Düsseldorf's arena

Arena Straße 1

40474 Düsseldorf

www.espritarena.de
1st semi-final: 10 May 2011, h. 21:00

2nd semi-final: 12 May 2011, h. 21:00

Final: 14 May 2011, h 21:00
Tickets

http://www2.dticket.de
How to reach the Arena

BY TRAIN. The Song Contest Ticket allows you to reach the city and arena using all trains (2nd class) of the VRR Network within the Rhein-Ruhr region, apart from Intercity (IC) and Intercity Express (ICE) trains.

TUBE / BUS / TRAM. The Song Contest Ticket allows you to get to the Arena and back to Düsseldorf city centre using all public transport modes (buses, underground and trams via the VRR Network). The arena can be reached via the U78. The journey time from the main station is 18 minutes and the service runs every 3-5 minutes on the evening of the events. A bus service (896) operates from the international airport to the Arena / Messe Nord. The journey time is approx 15 minutes.

BY CAR. The Arena can be reached from motorway A52 and A3 (north) A44 and A57 (west) A3 and A59 (south). Since the address 'Arena-Strasse' is relatively new and may not yet be recognized by all navigation systems, it is recommended to enter 'Flughafen Düsseldorf' (Düsseldorf airport). From motorway A44, take exit AS 29 Messe-Nord/Stadion or Messe-Nord/Arena. The parking fee for cars is €5. A total of 22,000 parking spaces are available on site.

BY TAXI FROM THE AIRPORT. Düsseldorf International Airport is only 3 km away. Depending on the traffic situation, the taxi ride to the ESPRIT arena takes approx 10-15 minutes and costs around 10 Euro.

ACCESS FOR DISABLED PERSONS. Available on the Arena's website: http://www.espritarena.de/en/contentgroup/3_9_0/content/id/asc/3_0_0
di Johannes Augustin