I Backstreet Boys in tour
marzo 13, 2005 in Musica da Redazione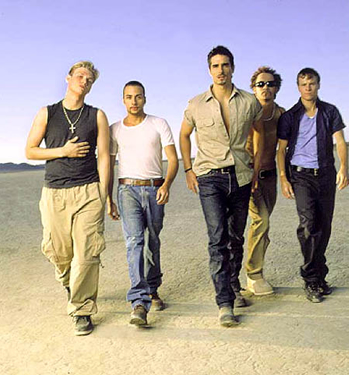 Los Angeles, California – Gli artisti della Jive Records, i Backstreet Boys, hanno annunciato le date di un tour di "riscaldamento" che inizierà il 21 Marzo a New York City come anticipazione del loro prossimo album ancora senza titolo. Il gruppo eseguirà tutte le sue hit, più alcune delle nuove canzoni dal prossimo CD. L'album, previsto in uscita a Luglio 2005, è il primo che il gruppo registra in studio dai tempi del loro 5 volte disco di platino "Black & Blue" pubblicato nel 2000.

I Backstreet Boys hanno debuttato nel 1997 totalizzando oltre 30 milioni di copie vendute negli Stati Uniti e 73 milioni nel mondo. Prima del tour, i Backstreet Boys faranno tappa a Kuala Lumpur, Malaysia, per il concerto "Force of Nature for Tsunami Aid", del 18 Marzo. Con loro anche i Black Eyed Peas, Boyz II Men, Lauryn Hill e Wyclef Jean. I proventi dell'evento saranno devoluti alla fondazione non-profit di Kuala Lumpur, "Nature Aid".Qui di seguito le date del tour dei Backstreet Boys:
Le date del tour

21 Marzo Irving Plaza New York, New York

24 Marzo Avalon Boston, Massachussets

25 Marzo Electric Factory Philadelphia, Pennsylvania

26 Marzo Cultural Center Scranton, Pennsylvania

28 Marzo House of Blues Chicago, Illinois

29 Marzo House of Blues Cleveland, Ohio

30 Marzo 9:30 Club Washington D.C.

1° Aprile The Norva Norfolk, Virginia

2 Aprile House of Blues North Myrtle Beach, Sud Carolina

4 Aprile Promowest Pavilion Columbus, Ohio

5 Aprile State Theatre Detroit, Michigan

8 Aprile The Pabst Theater Milwaukee, Wisconsin

10 Aprile Roberts Orpheum Theater St. Louis, Missouri

di BMG records