California Guitar Trio & Tony Levin a Torino
Febbraio 8, 2007 in Spettacoli da Redazione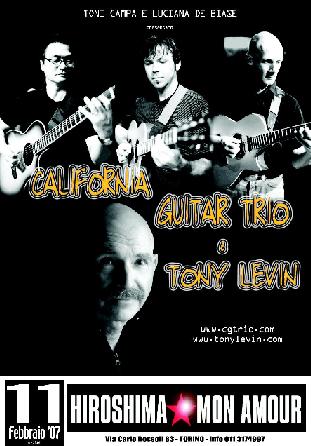 Poche righe per far capire la portata di questi professionisti che Toni Campa e Luciana De Biase portano a Torino, all'Hiroshima, l'11 febbraio.
Americani. Hanno suonato con i più grandi artisti del mondo. Hanno ottenuto una nomination al Grammy Awards del 2003 con "Pieces of the Sun" e la loro musica è stata mandata nello spazio come musica per svegliare al mattino l'equipaggio a bordo dello Space Shuttle Endeavor, della NASA.
Un turbinio di fusioni di stili strumentali – classica, rock, blues, jazz, world music, bluegrass e naturalmente la quintessenza del genere musicale tipicamente californiano, la surf music; lo sbalorditivo virtuosismo e l'astuto senso dell'umorismo dei California Guitar Trio arrivano all'Hiroshima per accompagnare il famoso bassista e stickista rock Tony Levin.

Un concerto straordinario che attraverso suoni scintillanti acustici e puliti, miscelati con elettronica pungente e ambient porterà il pubblico alla scoperta della grande musica di Tony Levin, che unisce una grande tecnica musicale a un grande senso del groove, una buona dose d'umorismo e una inarrestabile passione.
Tony Levin è un artista di fama mondiale. Ha suonato con artisti come Peter Gabriel, King Crimson, Yes (Anderson Bruford Wakeman Howe), Liquid Tension Experiment, Pink Floyd, John Lennon, Dire Straits, Joan Armatrading, Alice Cooper, Seal, David Bowie, Carly Simon, California Guitar Trio, Sarah McLachlan, Kevin Max, Paul Simon, Michael Schenker Group e molti altri.

I California Guitar Trio si sono guadagnati un seguito di fans e una vasta notorietà in tutto il mondo con significative incursioni nelle scene musicali progressive, acustiche e classiche.
Discografia di Tony Levin
World Diary (1996)

Black Light Syndrome (con Terry Bozzio e Steve Stevens, 1997)

From the caves of the Iron Mountain (con Steve Gorn e Jerry Marotta, 1997)

Liquid Tension Experiment (con i Mike Portnoy, Jordan Rudess e John Petrucci, 1998)

Liquid Tension Experiment 2 (con Mike Portnoy, Jordan Rudess e John Petrucci, 1999)

Bruford Levin Upper Extremities (con Bill Bruford, 1999)

Situation dangerous (con Terry Bozzio e Steve Stevens, 2000)

B.L.U.E. Nights (con Bill Bruford, 2000)

Waters of Eden (2000)

Pieces of the Sun (2001)

Double Espresso (2002)

CG3+2 (con California Guitar Trio e Pat Mastelotto, 2002)

Resonator (2006)
Per informazioni
Toni Campa e Luciana De Biase presentano:
California Guitar Trio & Tony Levin

Domenica 11 Febbraio 2007

ore 21.30

Hiroshima Mon Amour

Via C. Bossoli n.83 – Torino

Prezzo: 20 Euro
Prevendite: Circuito Metropolis/Radar, TicketOne e Hiroshima Mon Amour

Info line: 393-7534772
www.cgtrio.com

www.tonylevin.com
di Redazione